We work hard to create a safe, nurturing environment for those we serve. We also hold our program and standards to the highest level. Here are a few services we offer.
Individual Therapy – Our therapist provide face-to-face, structured sessions to meet the goals you have set out to achieve on your master treatment plan. They will use your strengths and work to alleviate identified symptoms, improve functioning and prevent deterioration. We provide Cognitive Behavioral Therapy and are trained in Trauma-Informed Care. We use Motivational Interviewing techniques and work to engage each person in the practice of Mindfulness.
Group Therapy – We will work with the goals of individual therapy but do it in group where you can find encouragement from your peers, share insights and work as a team to overcome the symptoms that impact you.
Family Therapy – Do you have someone close to you who you feel will help you in your Recovery? It could be a family member or close friend. Many different people inspire and support us. They are welcome to be a part of the process if clinically appropriate. They can be a part of your therapy here at Inspiration.
Qualified Behavioral Health Professionals – Inspiration is staffed with the greatest QBHPs in central Arkansas to assist you with meeting your daily goals. They will use the treatment plan you design to provide the very best treatment activities. They are the backbone of the work we do.
Rehabilitative Day Services (Day Treatment/Program) – We all have needs to meet affecting our daily lives. We have structured groups with the aim of helping long-term recovery. Whether it be housing, budgeting, self-care, recovery from substance abuse, access to community resources, emotional skills, or problem solving, we want to help support you with all areas of your life.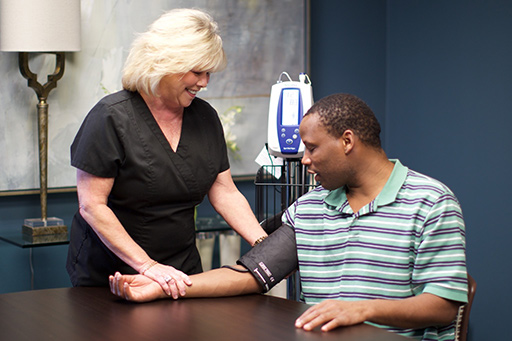 Nursing – We understand the importance of medical care in our mental health wellbeing. Therefore, we offer nursing services to assist you in many areas; assessments, medication compliance, medication education, attaining medications, coordinating with your primary care physician, evaluation in emergency situations, and much more. They work closely with your treatment team to make sure all of your medical needs are being addressed.
Psychiatrists – We have experienced psychiatrists to assist with diagnosis, treatment and education. You will have access to your psychiatrist every 90 days or more often if needed. 
Pet Therapy – We are innovative in our treatment and do not want to limit options. Monthly we have pet therapy partners visit to allow folks an opportunity to bond with the animals. It has been met with great enthusiasm by both clients and staff!
Innovative Programming
What is Program? We provide Rehabilitative Day Services (Day Treatment) throughout the entire day at Inspiration. Medicaid defines this as "an array of face-to-face day activities providing a preplanned and structured group program for identified beneficiaries that aimed at long-term recovery and maximization of self-sufficiency". It simply means we plan and facilitate groups around your recovery needs.
Here are a few of the activities we provide:
Recreational Therapy
Nutrition
Coping Skilling
Budgeting and Finance
Health Education
Addiction and Substance Abuse Education
Positive Habits
Motivation and Success
Art Therapy
Self-Esteem
Relationship Building
Trauma Informed Care
Identifying Needs
Boundaries
Building Support Networks
Goal Setting
We have a few other perks with being a part of our Inspiration family.
Crisis Line: We have a 24 hour Crisis Line where you can reach staff anytime you have a psychiatric emergency.
Food Pantry: We have a small food pantry for emergency purposes.
Clothes Closet: We have gently used clothes if you are in need.
Smoking: You are able to smoke throughout the day between groups on the patio area. 
Laundry Facility: If you have clothes that need cleaning we have washers and dryers on site.
Suggestion Box: If you have comments or suggestions you can leave us a note. We want to make changes that help you and your peers.
Peer Council: Our Peer Council consists of clients shaping our program and steering the way we do business. To learn more about the Peer Council, click here.
Client Advocate: We have a client advocate available if you have any needs which are not being addressed. Again, this program is for you!